Invisalign in Waterford, MI
Invisalign is the orthodontic method of choice for numerous American teens and adults. It's the ideal solution for patients who have busy schedules and complicated lifestyles. It is called "the clear alternative" because it uses clear aligners instead of an unattractive metal apparatus to reposition your teeth. Find out more about Invisalign so that you can talk to your dentist about this cosmetic treatment.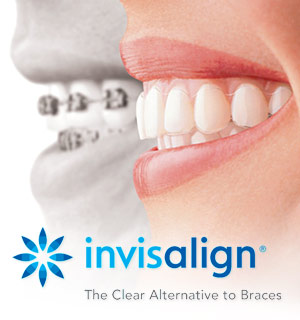 Invisalign Treatment Is Relatively Simple
Getting Invisalign is significantly simpler than getting traditional metal braces. Instead of being fitted with permanent brackets and wires, you'll simply need to have a set of impressions taken of your teeth. Using this unique impression and a special computer program, your orthodontist can have a custom set of aligner trays designed for your treatment period. All you have to do is commit to wearing your trays for at least 20-22 hours each day.
Invisalign vs Braces
There are a number of reasons why you might prefer Invisalign over braces, especially if you live a very active and busy lifestyle. Here are a few of the main benefits:
You can eat like a normal person—even right after the first appointment. With braces, you have to eat mostly soft foods because of the tightening brackets.
It's easier to keep your teeth clean with Invisalign—just brush and floss normally.
When you're in a close encounter with a friend, you can remove the tray if that makes you feel more comfortable.
Wearing the aligner trays will help you stop grinding your teeth at night, keeping your enamel healthy.
The Invisalign Treatment Period
During your Invisalign treatment. You'll visit the dentist every few weeks or so for a check-up and to receive your newest aligner tray. Each time you visit the dentist, you'll notice a slight change in the positioning of your teeth until the treatment is finally complete. Expect the process to take about six months to a year. The last tray your dentist gives you will become your retainer to keep your smile looking perfect.
Caring For Your Teeth During Invisalign Treatment
As mentioned above, one of the main advantages of the Invisalign system is that the trays can be removed for easy cleaning. So please don't neglect to do this! You'll need to brush your teeth after every meal or snack so that food and plaque do not get trapped in the aligners, which could promote tooth decay and gum disease. Your aligners, too, will have to be cleaned regularly; you can do this by brushing them and then rinsing them with lukewarm water.
Also, please keep in mind that while wearing clear aligners is very different from wearing braces, the importance of retaining your post-treatment results is exactly the same. You'll want to be sure to wear your retainer(s) exactly as prescribed after your treatment is completed to protect your investment in a beautiful new smile.
Find Out If Invisalign Is for You
Invisalign is for relatively minor orthodontic problems—a dentist at Stannard & Studt & Wolf Dentistry in Waterford, MI will tell you if it's an option for your unique case. Call (248) 673-7300 today to schedule an Invisalign consultation with Dr. Sean Stannard or Dr. David Studt.
For more information on Invisalign in the Waterford, MI area
call Stannard & Studt & Wolf Dentistry at (248) 673-7300 today!

Related Articles on Invisalign